Region 4 UAW Vets Site By Jeff "Doc" Dentice

Music Playing On This Web Site
"They Call Me Doc"
By Walter McGuire
Thanks For The Medics / Corpsman Tribute Song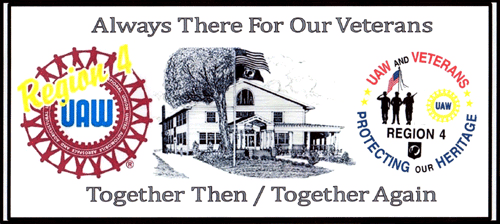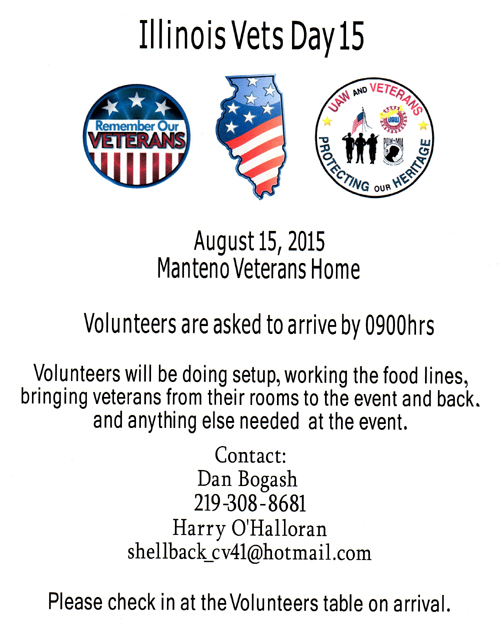 Late Summer Conference
August 27-30, 2015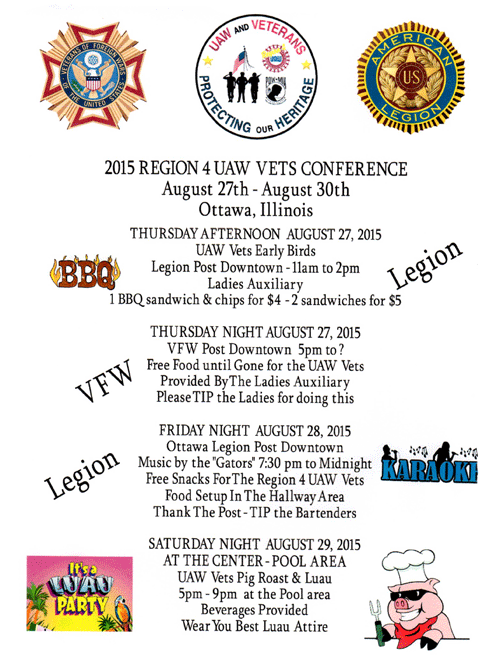 CONFERENCE HIGH LIGHTS
2nd annual Region 4 UAW Vets Pig Roast / Luau at the Pool Party
I have been asked to let everyone know that Free beer will be provided.
You are asked to bring your own Booze to the party. DJ will play from 6:30-9:30 pm.
After The Luau / Pool Party ends at 9:30pm..
You can all head downtown & keep the party going at the Blarney Stone, Legion or VFW.
USE Designated drivers / Cabs to the party, back downtown, and to your lodging.
NO GLASS BOTTLES OF BOOZE OR BEER ALLOWED NEAR THE POOL AREA.
KEEP THEM ON THE PICNIC TABLES LOCATED ON THE GRASSY AREAS ONLY.
THE POOL WOULD HAVE TO BE SHUT DOWN AND DRAINED IF GLASS IS
BROKEN IN OR NEAR THE POOL.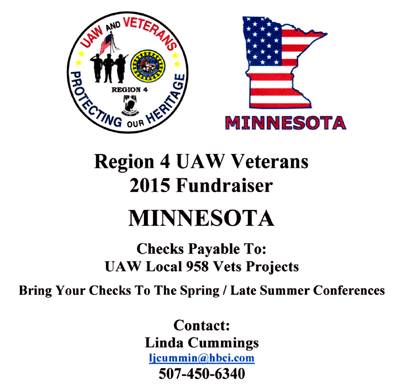 UAW Made Milwaukee Beer - Read The Code on the bottle cap or can.
Code has a letter followed by 01
2015 BLACK LAKE VETS CONFERENCE
October 11-16, 2015




Region 4 UAW Vets
2015 Spring Newsletter
CLICK HERE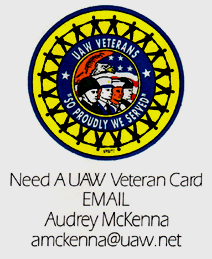 | | | | |
| --- | --- | --- | --- |
| Civil War | Spanish American | Phillipine American | World War I |

WW II American
Campaign


WW II Asia
Pacific


WW II Europe
Africa Middle East


World War II
Victory


| | | | |
| --- | --- | --- | --- |
| Korea | Vietnam | Persian Gulf | Bosnia |
Region 4 UAW Vets
2015 Vets Conferences


August 27-30, 2015
Early Birds August 27th
3-5pm Registration

2015 BLACK LAKE
VETS CONFERENCE
October 11-16, 2015

Region 4 UAW Director
Ron McInroy

Assistant Director
Brad Dutcher

Vets Coordinator
Ted Dever

UAW Intl. Vets Reps
Doug Taylor
Doug Tiderington

Region 4 UAW Office
Tamara - 847-459-3888

Veterans Board
Chairman
Jerry Lahmann


Vice-Chairman
Harry O'Halloran


State Chairs
Illinois
Steve Pople

Iowa
Ron Healey

Minnesota
Linda Cummings

Wisconsin
Scott Witt


Region 4 Vets
Web Site/Newsletter
Communications
Jeff Dentice (Doc)




| | | |
| --- | --- | --- |
| | | CLICK ON THE MAGAZINE |

Facebook

Local 1268
UAW Vets


Local 588
UAW Vets


Local 838
UAW Vets

Region 4
UAW

UAW
International

Region 4
UAW Vets


| | |
| --- | --- |
| Iowa Vets Affairs | Minnesota Vets Affairs |
| Illinois Vets Affairs | Wisconsin Vets Affairs |

o
Region 4
UAW
VETERAN'S
WISCONSIN - ILLINOIS
IOWA - MINNESOTA
NEBRASKA-WYOMING-MONTANA
NORTH DAKOTA-SOUTH DAKOTA

NATIONAL UAW VETERANS CONFERENCE
Black Lake
August 2015



All Rights Reserved By By Jeff Dentice @ www.region4uawvets.com


White Star Mothers Of America
Remembering the Service / Sacrifice of the "22" + Veterans
who lose their battle to suicide every day in America.
To Honor & Mentor the families of those Fallen service members.



New POW / MIA Bracelets
Doc will also be bringing them to the 2015 Fall conference.
Email Doc
docdentice@wi.rr.com
POW/MIA

WWII
73,624

Korea
7,883

Cold War
126

Vietnam
1,642

OEF / Others
6

Total
83,281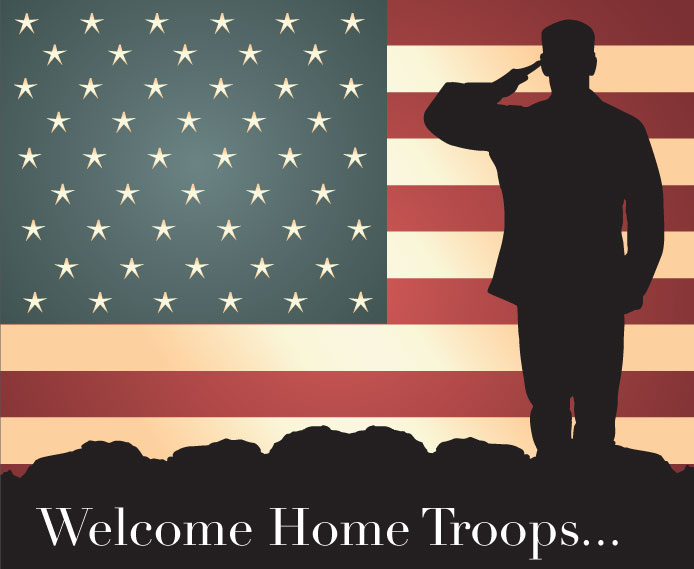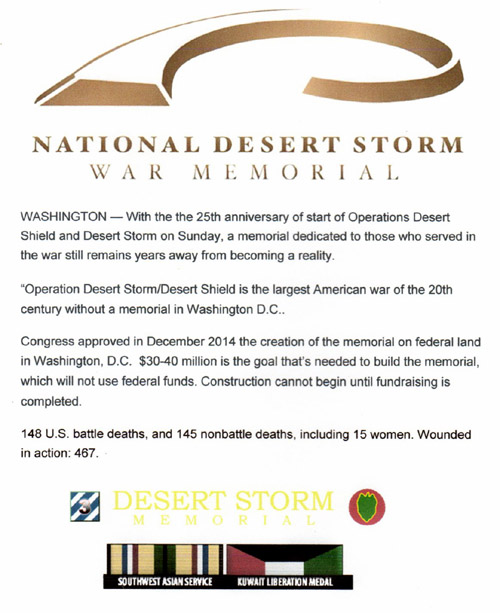 New VA Forms - Claims & Disability
=

"The Sound that Binds"
The Huey




Do you know a Veteran who is homeless or at risk of becoming homeless?
VA has dedicated services you can help that Vet access.
Help A Homeless Vet


Disability Compensation
Education and Training
Employment Services
Health Care
Home Loans and Housing-Related Assistance
Life Insurance
Memorial Benefits
Pension
Spouses, Dependents, and Survivors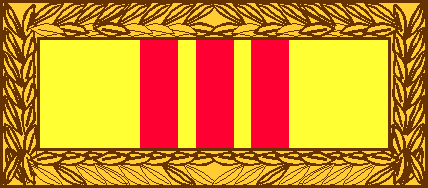 NAMES ON THE WALL
CLICK ON THE RIBBON ABOVE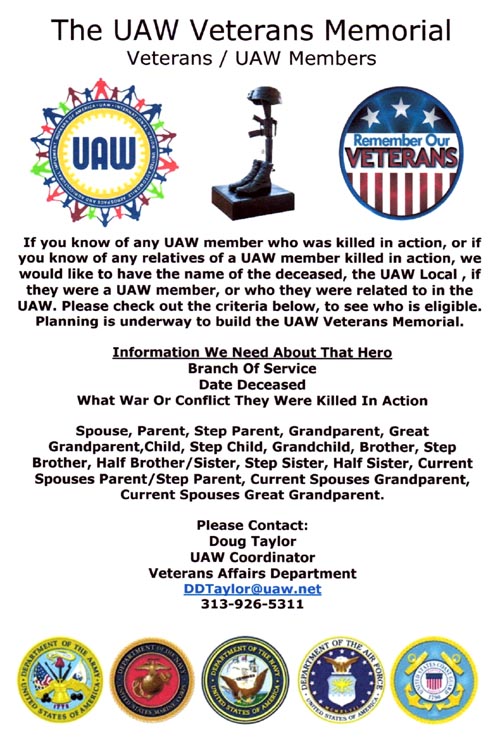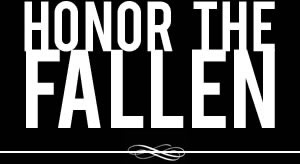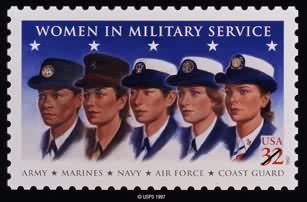 Region 4
UAW VETS WEBSITE BY
JEFF DENTICE (Doc)
REGION 4 UAW VETERAN'S
GUESTBOOK
SIGN IN
VIEW


Sites By Jeff Dentice (Doc)
The songs on this web site are copyrighted by their respective artists and are placed here for evaluation purposes only.
No profits are made on this site from their use. If you enjoyed the song - Please purchase a copy at a store or online.
Many of the songs the artists have given Doc permision to features on his sites